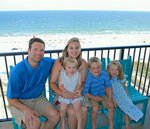 Mrs. Cook
My name is Andrea Cook and I am excited to be starting my first year as the school counselor at Odenville Intermediate School. As a counselor at Odenville Intermediate, I get the opportunity to work with every student. I am excited about meeting and getting to know your children. This page will provide you with information about the School Counseling program, upcoming counseling related activities and events, and counseling topics and resources.
*What is a school counselor?
A school counselor is a certified, trained and caring professional who works with all students, parents, teachers, and staff, in order to help every student be successful academically and socially.
*How does your child experience school counseling services?
-Individual Counseling
-Small Group Counseling
-Classroom Counseling Lessons
*Helpful Websites:
Grief/Loss
www.ameliacenter.org The Amelia Center is a place of hope for grieving children, parents and families. The Amelia Center offers individual and family counseling and support groups at no set fee. If you have any questions or would like to set up an appointment, you may contact them at (205) 638-7481. The Amelia Center is a department of Children's of Alabama and a United Way of Central Alabama agency.
Bullying
http://www.stopbullying.gov/kids/webisodes/index.html
http://www.pacerkidsagainstbullying.org/kab/what-is-bullying/