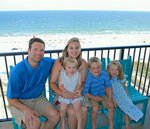 Mrs. Cook
2017-2018 School Year
My name is Andrea Cook and I am excited to be starting my third year as a school counselor at Odenville Intermediate School. As a counselor at Odenville Intermediate, I get the opportunity to work with every student. I am excited about meeting and getting to know your children. This page will provide you with information about the School Counseling program, upcoming activities and events, and counseling topics and resources.
*What is a school counselor?
A school counselor is a certified, trained and caring professional who works with all students, parents, teachers, and staff, in order to help every student be successful academically and socially.
*How does your child experience school counseling services?
-Individual Counseling
-Small Group Counseling
-Classroom Counseling Lessons
Please Click on Links above to check out helpful links on different topics.