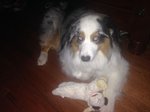 My dog Mac
What is a Library Media Specialist?
Today's school librarian works with both students and teachers to facilitate access to information in a wide variety of formats, instruct students and teachers how to acquire, evaluate and use information and the technology needed in this process, and introduces children and young adults to literature and other resources to broaden their horizons. As a collaborator, change agent, and leader, the school librarian develops, promotes and implements a program that will help prepare students to be effective users of ideas and information, a lifelong skill.
Online Books
username oisstudent
password saints
Can't get to the library? Forgot your library books and you want to read at home. Log in to my Capstone library and read one of our 198 interactive ebooks. Capstone Interactive eBooks provide text highlighting, audio support, the ability to customize book lists, and educator support.
There are also two other websites with ebooks that the OIS library has purchased. Abdo digital has 12 books to choose from. Bearport has 26 books to choose from, but they are all from the very popular Scary Places set.
http://my.abdodigital.com/login/
username OIS
password OIS
Http://mybigtimebermedia.com/bearport
username OIS
password OIS
A little about me.........
This is my fifth year as a Library Media Specialist and my nineteenth year as a teacher. I have a Bachelor's Degree in Early Childhood and Elementary Education with a middle school Endorsement in Language Arts from UAB. I have a Master's Degree in Elementary Education from UAB and a second Master's Degree in Library Media Science from University of West ALabama. My first year teaching was actually here when it was the old Odenville Middle School, where I taught fifth grade. After that, I spent thirteen years at Moody Middle/Moody Jr. High School as a 7th grade Language Arts teacher. I admit that although I missed Moody at first, I love it at Odenville Intermediate School now, and I love my job as the Library Media Specialist at OIS.
I have been married for fourteen years to Jimmy Williams, and my maiden name is Jones. I have a twenty-one year old step-son named Jimmy, a nineteen year old step-daughter named Meagan, and an twelve year old daughter named Kirsten. I absolutely love to read. When I am not reading, I love to play with my dog Mac. He is an Australian Shepherd, and the only one in the house who never has an attitude. HA HA